Ticket To Work
If you have a disability, Rappahannock Goodwill wants you to know, you do have options about going back to work.  RGI has helped a lot people, like Mary Meyers.  In five years, Mary went from bed to wheelchair, to crutches to walker, to cane and then back.  Her trial started with a broken toe, and led to inflammation of the sympathetic nervous system. Mary said  it felt like gasoline on fire in her veins.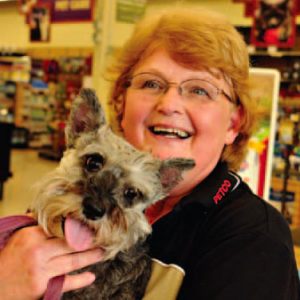 Today, Meyers is back on her feet working 15 hours a week as a dog trainer at PETCO, thanks to an epidural pain pump, Rappahannock Goodwill Industries Job Help Center, and a Ticket to Work.
Ticket to Work was established by the Social Security Administration (SSA) in order to give people with disabilities an opportunity to go back to work. Rappahannock Goodwill is approved by SSA to help you with employment readiness, job searching and job placement!
What is the goal of Ticket to Work at Goodwill?
At Goodwill, we don't want to just help you find a job; we want to help you find your future! We want you to know you have options! Think of your ticket as your "free coupon" for our employment services.
What are some benefits of assigning your Ticket to Work?
You can easily return to benefits if you have to stop working (known as "expedited reinstatement of benefits")
You can continue to receive healthcare benefits
You will not receive a medical continuing disability review (CDR) while using your Ticket
FREE personalized employment support!
What can Goodwill provide you?
Job Seeking Skills / Job Readiness Training
Career Awareness
Completing Job Applications
Resume and Cover Letter Writing
Interviewing Techniques and Questions
Follow Up / Post Employment Services
All services are varied and are based upon the employment plan of the each individual.
Who is Qualified?
Goodwill's Ticket to Work Program serves all individuals with disabilities who want to get back to work and become independent from Social Security Benefits.
You must:
Be between the ages of 18 and 64
Be Disabled as per Social Security and have received a ticket
Have the desire to, eventually, be free from the constraints of the Social Security system
How do I get more information?
Meet with one of our Employment Specialist to learn more.  Please call (800) 789 – 2816 and ask about our Ticket to Work Program.  You can also email: TicketToWork@FredGoodwill.org. We would love to hear from you. Let's go to work!