Commercial Custodial Services
Rappahannock Goodwill Industries (RGI) operates a variety of business services through our Industrial Operations Group to the federal government on the Marine Corps Base, Quantico in the northern area of our service region.
FBI/DEA Operation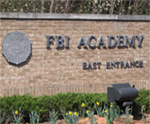 The Industrial Operations Group operates custodial, laundry, and administrative services with the Federal Bureau of Investigation (FBI) Training Academy and the Drug Enforcement Administration's Justice Training Center/DEA. These are just two of the government agency clients that Goodwill partners with providing quality services. RGI employees, particularly those with disabilities, enjoy a great environment in which to work. They provide needed services to the FBI and DEA students daily. Goodwill's partnership with the FBI and DEA has been in existence since 1994 and provides over 67 jobs to people with barriers to employment, particularly those with disabilities.
Some of the services Goodwill provides the FBI are: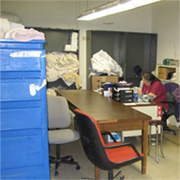 Dry Cleaning Services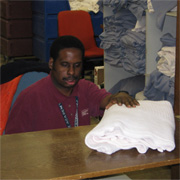 Linen Exchange Service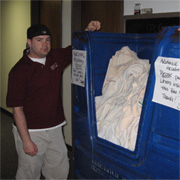 Laundry Services
Quantico Operations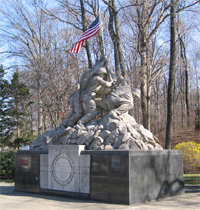 The Industrial Operations Group also operates custodial services at the Marine Corps Base, Quantico. Goodwill has been providing custodial services to the Marine Corps since 1982 and has over 14 custodial employees working there each day. Goodwill employees provide services which include cleaning of the dorms/buildings, restroom facilities, floor maintenance, trash removal, and other maintenance duties throughout the base. The employees work in small groups, and are trained and supervised by a project manager.
Goodwill's custodial staff work daily to provide cleaning services to our Marines:


And you thought Goodwill was only about our Stores! Our mission is much more than meets the eye!
For more information on the program and services that Goodwill provides the community, visit other areas of our website or call Goodwill at 1-800-789-2816. Stop by our offices for a tour of our facilities at 4701 Market Street, Fredericksburg, VA 22408 , Monday-Friday.