Goodwill Leads With A New Vision
Woody Van Valkenburgh has spent more than three decades finding homes for clothing, donated toys, and enough household items to fill a string of hotels.
Now, the president and CEO of Rappahannock Goodwill Industries (RGI) is ramping up his recycling efforts by breathing new life into something a little bit bigger. RGI has purchased the 80,000-square foot structure that formerly was Gallahan's Furniture in Spotsylvania County's Lee's Hill area.
"It's going to be interesting to take this building, that is not designed as an office building, and turn it into what we're talking about," said Van Valkenburgh, who hopes to reshape a showcase for high end home furnishings into a hub of resources for those who need help finding jobs.
He and his team will work to divide the wide-open site, which also includes nearly five acres, into spaces for RGI stores and offices and for other organizations with similar missions. Along the way, they believe their partnering efforts will build something even more special: a collaborative environment for helping people with a variety of barriers reach their full potentials – both on and off the job.
"Our vision drives us to look for meaningful collaborations. RGI is not a resource for housing or transportation. We're not a spiritual or social resource. We're not a health care provider or a school. However, we know there is a need for all of these things. These are the kinds of organizations we'd be looking to partner with," Van Valkenburgh said.
As examples, he points to Goodwill's existing affiliations with the Thurman Brisben Center, which provides aid to the homeless, and with the disAbility Resource Center, dedicated to promoting independent living.
Collaborating agencies will split the top level of the two-story building with RGI's own administrative offices, each claiming half of the floor's 40,000 square feet. The lower level will become a showcase for donated items, as the newest of nearly a dozen RGI retail stores and an outlet, where gently-used products will be sold by the pound.
Built in 2001 with sprawling display rooms for furniture, the the building includes a prominent atrium with a grand wall of glass in the front. Gutting the structure, reconfiguring parking space, and transforming the site to suit the needs of RGI and its collaborative partners is sure to hold its share of challenges. Van Valkenburgh says that purchasing the structure, which had been vacant since 2008, is the right thing to do and that now is the right time to do it.
"If you have the financial strength and you have a vision and you can see you're going to need space in the future, why wouldn't you?" he said, adding that the current real estate market made the purchase even more appealing, allowing the agency to acquire the site for about a third of its assessed value.
The building is expected to reach full occupancy within five years, with bottom-floor operations underway by next summer. RGI's administrative offices most likely will move into the space in early 2013. They'll vacate their Fredericksburg campus on Caroline and Princess Anne streets, where their programs and services have helped folks find jobs for the past 30 years. RGI does plan to maintain a presence downtown by opening a job help center in a yet-to-be-determined location.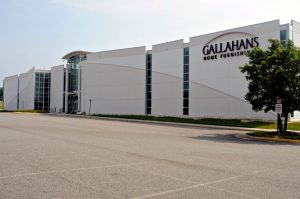 Proceeds from the sale of the Fredericksburg site will be funneled into the construction of the new building's top-floor operations, including its collaborative space. And RGI plans to charge its nonprofit partners minimal rent, if any at all.
"It's going to take a burden off of their budgets, so they can put more funding into their programs," said Van Valkenburgh, who abandoned his engineering background long ago, propelled by the satisfaction of running a business with the power to bring about social change.
About 450 people in the greater Fredericksburg region work for Rappahannock Goodwill Industries. Through employment and training programs, the agency helps give or restore financial independence to those with physical and mental disabilities. And it reaches out to people with other barriers that make finding work difficult, including wounded war veterans, domestic violence victims and those with criminal backgrounds who are determined to build better lives for themselves.
"Everybody needs some support at one time or another," said Van Valkenburgh, who believes a collaborative environment will further RGI's mission of creating a society that's fully accessible to those with employment barriers. "A housing agency's vision of the world as it should be could be similar to our vision of the world as it should be."