When you mention Rappahannock Goodwill to most people, they immediately think of the incredible bargains at the Goodwill Stores.
There is so much more to Goodwill! Every square inch of every Goodwill facility supports the mission to link people with barriers to employment, especially those with disabilities, to work. But telling can only go so far. That's why Rappahannock Goodwill is offering tours so people can experience the excitement of all that Goodwill accomplishes. "You haven't seen Goodwill, unless you really see Goodwill," said Woody Van Valkenburgh, RGI's president and CEO.
The tours give visitors a first-hand look at the work going on at the Goodwill commercial laundry. At the laundry, approximately 112 people, a large portion of whom are people with disabilities, are employed washing, drying, and folding laundry that is used at regional hospitals and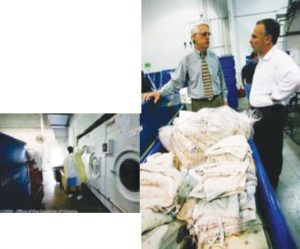 even on Air Force One. It's a science of timing and laundry formulas inside 600-pound capacity washers and 400-pound capacity dryers. The tour also visits a Goodwill store and donation center so people can witness what happens behind the scenes as hundreds of donations arrive daily.
In just a couple of hours, tour groups of 3-7 people discover all the good of Goodwill. Tours are held each month and can be scheduled based on interests and larger group sizes can be arranged. Also, Goodwill offers a presentation about its mission and operations that includes a short video for businesses, government, and other groups.
For more information and to arrange for a tour or presentation, contact Heather Schulz, executive assistant, at 540-371-3070.