So much accomplished … so much yet to be done!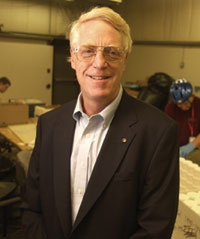 For over 40 years, we've been developing programs and offering services in the Fredericksburg area that not only serve the people who take part in them, but the community at large.
Our affiliation, in 1991, with Goodwill Industries International, gave us even more leverage to make a difference in the lives of people with disabilities and barriers to employment. Through our Goodwill Retail Stores, collaborative, community-responsive partnerships with local employers, and innovative training programs, Goodwill provides hundreds of people throughout our service territory with the opportunity to secure a job and earn the dignity and self respect that come from supporting oneself and one's family. When the power of work is realized, lives are changed and redirected. The community's quality of life is enhanced.
Challenges and opportunities remain for us.  Our territory —stretching from the Northern Neck and Middle Peninsula through the Fredericksburg region and west to Culpeper and Orange – offers additional opportunities for locating new retail stores, which in turn will generate revenue to fuel our entrepreneurial activities and human services. Our ability to handle a variety of out-sourced work provides clear benefits both for the businesses we serve and the people we employ. And with the trend toward declining government funding for human services, it's more important than ever for us to be entrepreneurial and innovative in raising money so we can meet the needs for services in our rapidly growing region.
Each individual's story of accomplishment, self-confidence, and pride, is a step toward our goal of helping people who face disabilities and barriers to employment learn to lead independent lives through the power of work. It's our most difficult challenge. It's our greatest success.
We invite you to share in that success and pride by becoming involved in your local Goodwill.
Woody Van Valkenburgh
President and CEO