Introduction to Your Goodwill
Since 1966, Rappahannock Goodwill Industries has believed in the power of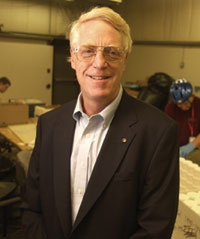 work to change peoples' lives. In today's society, to have a job, do it well and reap the benefits of that effort is one of the most important ways a person can live their life with dignity.
There are many organizations that provide services and assistance to people facing barriers to employment. Our business model is different. For thousands of people in our region, Goodwill has been the conduit to the world of work. Without Goodwill, many of the persons with disabilities with whom we work would be idled at home, inactive, and dependent on the support of family members or other caregivers.
One of the most important benefits to helping people with disabilities enter the work force is the effect on their families, who are often forced to make tremendous personal and financial sacrifices to care for adult children with disabilities. Instead, we help them define their interests and abilities, and provide the training and counseling they need to join the community of work. In addition, there are economic benefits for the local economy when people with disabilities are able to work.
Today, Goodwill is facing the challenge of keeping up with an extremely fast-growing region. According to the 2000 census data, in our service region there are nearly 41,000 people of working age who have disabilities. Of that total, over 16,000 are not employed. Our analysis shows that more than half would choose to work if they were given the opportunity. That's 8,000 people with disabilities who would like to go to work. These are the people we must reach.
Woody Van Valkenburgh
President/CEO
Our Mission: To provide to people with barriers to employment – particularly those with disabilities – an array of quality vocational and educational services so that they can work most independently.
If you would like to learn more about Rappahannock Goodwill, you can take a tour of our facilities including our stores, donation centers, Job Help Centers, and our Laundry Facilities. For more information on taking a tour or to have an RGI Representative make a presentation to your group, please contact Heather Schulz or call (540) 371-3070, (800) 789-2816.
See a video of the work of Goodwill by clicking to www.FredGoodwill.org/changes